Ethnic Indian has come a long way and has been continuously evolving to become one that has become more suited to comfort the wearer but at the same time, it still bears resemblance to the parent traditional wear. These tunics have been inspired by western tops but possess a desi spin! They are graced by all the typical Indian decorations that can be seen on every other garment. Demand has steadily increased for these garments as they have widely been adopted by women of all ages due to their comfortable properties and ease of wearing, these properties have led to increased production of wholesale long Kurtis. The options involved with this garment are endless, they are available in all colors and almost every type of fabric. This makes it a must-have that no woman is able to avoid.
Another perk of these garments is that they can be paired up with any kind of bottom wear. Leggings, palazzo pants, churidar, lehenga, and even jeans. The one pairing we are interested in is the Kurti and palazzo pants one. The palazzo pant is a type of loose-fitting cotton-based pants that feature a unified width throughout the length of the legs. Neutral, earthy colors bring the best out of them and these shades are known to match every other color out there. The fact that it is made from cotton material makes summer season a breeze as it will keep you cool by circulating air to the body. It soaks up water fast and dries even faster and this is what makes it easy to launder.
Indo-western Kurti with palazzo pants:
Indo-western Kurtis is a fusion of Indian and western-inspired garments to create a unique outfit by combining features from both. A common sight on these Kurtis is the slits that usually feature on the front of them. This together with cold shoulders and other fancy features make for a party going appearance with an outfit that fits the brief. This category is known to play with a handful of colors. Girls and women who enjoy making a fashion statement should definitely have a look at this one. 
Jacket-style Kurti with palazzo pants.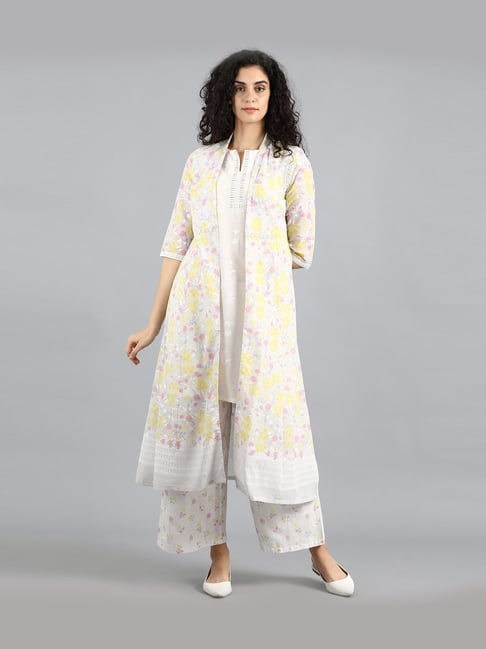 This newly developed style is famous for the visual attraction caused by the addition of a jacket over the actual Kurti. There are two types of jackets, a short one that ends below the bust, or a long one that is as long as the Kurti itself. There is usually no closure or just a simple string to tie closed. In most cases, the jacket and the Kurti feature different but closely related colors. 
Straight-cut Kurti with palazzo pants.
A basic style that is bound to have a place in every woman's wardrobe is the straight-cut Kurti which is simple with its design. It is not too long and does not go further than the knees. The straight cut is actually known to suit the majority of body types with its plain designs that may feature embroidery, beadwork, or digital print. Palazzo pants act as a breathtaking pairing for this specific type of Kurti. 
Short Kurti with palazzo pants.
Short Kurtis are a sort of modernized Kurti as they can come in many western designed looks such as checks, stripes, formal collar with shirt closures, mandarin collar. If you want to create a fashion-savvy looking pairing you can match them up with a great pair of denim jeans. They end at the waist and can be great with a pair of monotoned palazzo pants if you are aimed at representing a more ethnic look.
Asymmetric Kurti and palazzo pants.
Asymmetric Kurti is known for its appealing look caused by the uneven hemlines and overlapping layers. In the right colors (bright pastel colors) they can be worn for any occasion as they brighten up the day with their pleasant vibes. This fashionable Kurti does not fit into the conventional styles that are described as traditional wear, but reserve a place in the class of modern Kurti styles. Together with palazzo pants, they make a formidable outfit that can be worn for any occasion. 
Long Kurtis with palazzo pants. 
For decades the long Kurti such as the Anarkali style has been praised for its royal looks inspired by queens of the Mughal era. Heavy decorations are placed on the front of the Kurti to maximize its look. Auspicious occasions are what this Kurti caters to so using a premium fabric is the way to go. Deep colors such as reds, oranges, and maroons are shades that will make the design stand out more. Again the palazzo pants are a great optional way to team up this timeless classic that is loved by all women countrywide and this is why it is the go-to outfit for any event.
As you can probably see by now the palazzo pants are a style that gels well with other clothing. It is a versatile garment that acts as the perfect last-minute style up for a surprise event or can even be more appropriately planned out to become a star-studded outfit for a fashion-oriented occasion such as a party or a celebration party. Cotton palazzos also serve a greater purpose by being cool and breathable bottom wear especially for the hot summers that are known to be unbearable. The public is moving towards modern and western-themed clothing, this very fact is the reason why palazzo pants are doing so well on the market in India and around the world. 
Every kind of Kurti is sure to look stunning when paired with these stylish bottoms and of course, compliments the body of the wearer so she can put her best self forward. Play around with colors as it can complexify your look in a good way. A-line Kurtis, short Kurtis, and jacket-style Kurtis all look most attractive when paired with palazzos because they create a different look that combines tradition and western features.