Leverage Microsoft Customer Data Platform to enhance business growth
Covid-19 forced businesses to make alterations to the way they interact with customers. As digital transactions have become a norm across businesses, the need to deliver outstanding services to Microsoft Customer Data Platform has been heightened through this pandemic.
Your business must be able to respond to the changes in the market and customer's needs with a proactive approach. The key to overall improvement is customer data . The core of business marketing and sales is reliable customer data which allows your business to review high-value customers as well as to improve your products and services.
Businesses obtain enormous amounts of data from various sources and channels. Data gathered from these sources are often disconnected, so it's hard to make proper use of these data. It must be combined to gain significant business advantages – to empower marketing, sales and service teams, and to accelerate business growth. The significance of Microsoft Customer Data Platform is here.
Customer Data Platform collects customer data from multiple sources to create a comprehensive customer database. It gives a total view of each customer. With Microsoft CDP (Customer Data Platform), your team can strengthen customer engagements, improve marketing strategies, sales performance and boost revenue generation.
What benefits do you get by leveraging Customer Data Platform?
Gain single view of customer
Customer Data Platform alleviates data silos. The platform grabs customer data from disconnected sources and unifies data to give a complete customer overview. The comprehensive profile view for each customer will be helpful to understand customer interests, sentiments, trends behavior, demography and more.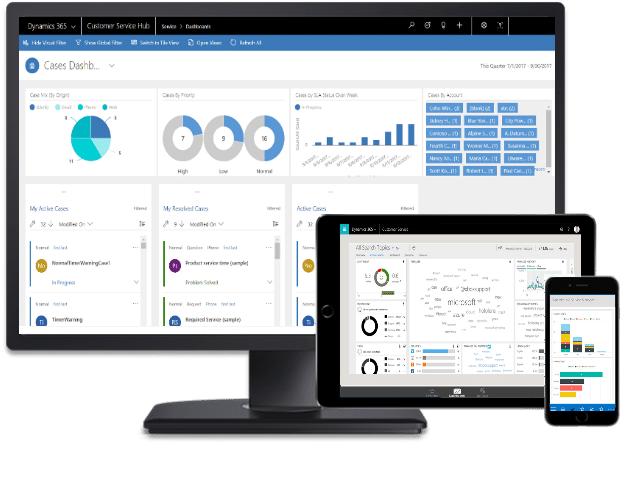 Get new insights
Accuracy of customer data is paramount to business success and growth. It will be challenging to recognize if the data collected is reliable. The CRP platform unifies data from customer interactions with website and social media channels to create a comprehensive customer profile. This can be used to create actionable marketing, sales and customer service strategies.
Personalized customer engagements
CDP platform helps your service team to strengthen personalized engagement with customers. You can leverage the respective customer profile to provide personal recommendations, the next best offer and to provide guidance on the entire customer journey. Customer Data Platform persuades customers to visit again.
To build an effective marketing, sales and service strategy, you need accurate data. So, it is important to find a reliable Customer Data Platform that is worth for your business.
Get access to modern features: Dynamics 365 Customer Service is featured with AI-powered virtual agents that helps businesses to swiftly address, handle and resolve most complex issues. The application helps customers to access the right content at the right time and on the right channel and this helps to improve customer satisfaction. Moreover, customer service agents can collaborate with experts and share knowledge.
Make customer interactions more personalized: You get a complete view of the customer profile which makes it easy for your agents to deliver a personalized service to customers. You also get customer's previous transactions with your support team. You can connect customers through voice, chat, SMS, Facebook Messenger, WhatsApp and more. By getting a complete view of conversation history and support, your agents can foresee customer demands and deliver great experiences.
Microsoft Customer Data Platform
Microsoft Customer Data Platform enables business to improve growth through proper understanding of customer data. Engagement Insights capability in Microsoft CDP enables you to have a deeper understanding of customer objectives and behavior with analytics from your websites, mobile apps and other connected systems.
Integration of Microsoft Dynamics 365 Customer Voice with Microsoft CDP helps to uncover customer sentiments. Customer Voice lets you capture feedback about your service and products with personalized surveys. You can use this to augment your customer profile.  Therefore, with detailed customer understanding, you can plan strategically your activities to build relationships, improve marketing and sales performance.
Leverage a collection of pre-built AI templates to provide product recommendations and guidance on entire customer journey. The advantage is that business users can run AI (Artificial Intelligence), or ML (Machine Learning) based analytics on their data for relevant insights without having to rely on data scientists.
Integration of CDP is possible with Microsoft or other third-party platforms. This makes it easy to share insights. Take data from any source and make use of data insights on multiple destinations such as Facebook, Google Ads, HubSpot, MailChimp, etc. This helps you provide effective guidance across the entire customer journey from your favorite channels.
Many industry leaders are leveraging Microsoft Dynamics 365 Customer Insights (Customer Data Platform) to enhance engagement with customers and to drive business revenue. Read stories from the companies that are using Microsoft Customer Data Platform: UNICEF Netherlands, Campari Group, Dayton Children's Hospital and more.
Dynamics 365 Customer Service is enriched with features that helps agents to handle more complex matters. AI-powered virtual agents swiftly address and remediate issues.
Customers can directly access your knowledge base helping to deliver the right content at the right time on the right channel. The solution allows to collaborate, share tips and use insights from subject experts and external users
Dynamics 365 Customer Service provides a comprehensive view of the customer profile and the previous history of interactions with your support team. Agents can deliver connected experiences through various mediums including voice, chat, WhatsApp, Facebook Messenger and more.
BY going deep into the customer history and previous interactions agents can understand your customer needs. This helps to raise customer satisfaction and improve brand reputation
Create success story like these companies by partnering with the most committed and trusted Microsoft Dynamics 365 Providers.
If your business is based in UAE, Saudi Arabia, Qatar, Oman, Bahrain, Jordan, or anywhere in MENA region, you can collaborate with the trusted Microsoft gold partner UAE there.
Their professional Dynamics 365 consultants would have a comprehensive understanding of your business requirements which they will utilize to implement a perfect customer solution with Microsoft Customer Data Platform – Dynamics 365 Customer Insights. They also provide guidance, support and training throughout the implementation phase.
Get expert guidance from the Microsoft Dynamics 365 partners in UAE, Saudi Arabia, Qatar, Oman, Bahrain, Jordan, Pakistan etc.