A sentiment analysis API empowers you to extract intelligence from vast amounts of unstructured data for important business functions such as brand monitoring from news and social media, customer experience (CX) strategies, employee experience (EX) management, and more. Not just a standalone product, once a sentiment analysis API is trained to your needs, it can be seamlessly integrated into your legacy model for sentiment mining to magnify data insights.
Thus, as a marketing head or a human resource manager, you discover more granular, action-based intelligence than before. And if you're a data scientist, you find a reliable means to get the benefits of sentiment analysis through enriched metadata.
This blog articulates these and other key advantages of a sentiment analysis API, which you cannot afford to ignore.
What Is Sentiment Analysis?
Sentiment analysis is a machine learning technique that automatically detects emotions from data. This data can be from any source – internal or external to an organization – and any type, such as text, video, or audio. Sentiment analysis allows you to glean information from review forums or even unsolicited feedback that people express on social media. The major benefits of sentiment analysis, though, lie in experience analytics, such as customer experience analysis or CX analytics, employee experience (EX) analytics, and brand experience.
How Does A Sentiment Analysis API Help?
A sentiment analysis API is a software intermediary that allows two software applications to connect and exchange information. As a data analyst, you may want to enrich your existing sentiment model's metadata cost-efficiency and quickly, or as a product manager, you may need additional or niche information to help your sales team upsell. In both cases, a sentiment analysis API provides you with the advantage of integrating data between different applications and extracting information from varied sources. Thus, you can conduct voice of the customer analysis with social listening data or discover consumer trends through Google reviews analysis, easily and without downtime.
Which Are the 10 Critical Benefits of a Sentiment Analysis API?
A sentiment analysis API distills accurate insights from your data by using machine learning (ML) tasks such as natural language processing (NLP), semantic clustering, video AI, and others. The beauty of an API is that it connects to your existing system, or you can use it as-is for your requirements as a platform as with Repustate IQ. Once trained and applied to your business, it keeps getting smarter with every iteration learning from your data, thus becoming more and more fast and precise.
In view of this, let's check out 10 critical benefits you get from a sentiment analysis API that will jumpstart your growth trajectory and make you recession-proof.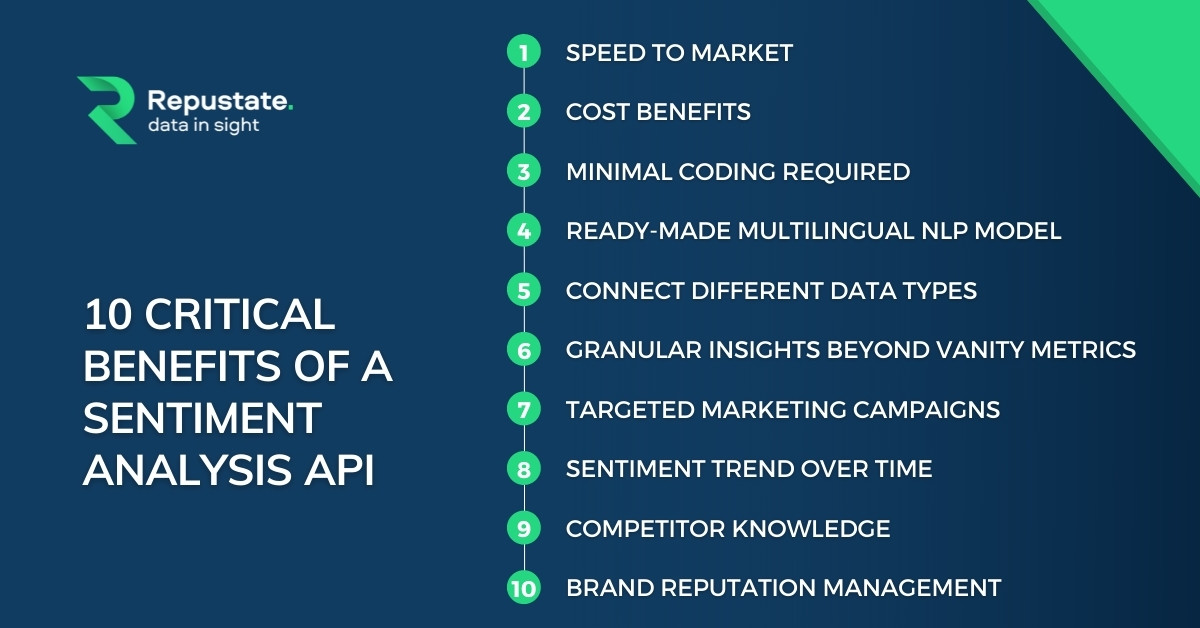 1. Speed to market
If you're a marketing agency that needs to serve multiple clients, all of whom have different needs and are from different industries, you cannot serve them all with just social listening analytics or traditional market research. You need a sentiment analysis API that extracts customer insights from experience data that you can use in your proposed marketing and advertising campaigns.
Not only can you derive in-depth market and consumer insights from all data sources such as social, surveys, videos, chatbots, etc, but also serve clients in multiple industries with customized aspect models. In this way, a sentiment analysis API acts as a catalyst to boost your speed to market.
2. Cost benefits
The amount of effort, time, and money it takes to build a sentiment analysis platform from scratch is not feasible for most companies. Perhaps you do have a proprietary sentiment model but have outgrown it or you have found a platform that suits your budget, desired seats, and business needs but does not fulfill all of your requirements. In such situations, a sentiment analysis API is the perfect solution.
When trained and integrated into your existing solution, it will enhance the features of your tech stack, thus saving you additional costs. More importantly, because the AI-driven API keeps learning continuously from the data it analyzes, it becomes smarter, high-precision and more robust with time, thus becoming increasingly valuable.
3. Minimal coding required
Data architects are an integral part of any organization's growth team because they lend data munging and analytics advantages to all departments – product, advertising & marketing, human resources, and operations. But not all companies have a sizable data analytics team to update or alter aspect models to their changing requirements. With Repustate's sentiment analysis API, there is minimal coding required. We will go deeper into this in the next section.
4. Ready-made multilingual NLP model
Most multilingual platforms use machine translations, which are rife with inaccuracies and should not be used for analyzing sentiment in multilingual data. A truly multilingual NLP machine learning model has a native part-of-speech tagger built-in for each language it processes. Because these are developed manually for each language, an API that uses one for NLP tasks hits the target every time it analyzes different languages for sentiment. Thus, giving you the benefits of sentiment analysis easily and seamlessly. Once your provider has trained the model to your business needs, all you need to do is plug and play.
5. Connect different data types
Organizational big data is scattered across data warehouses for security reasons as well as to mitigate load. Apart from this, businesses are now also looking at external sources of data to gather insights, whether it's for improved employee experience, healthcare analytics, or customer engagement.
A sentiment analysis API connects this chasm and integrates data sources to give granular insights from all channels – social media, review forums, surveys, videos, podcasts, blogs, and more. Thus, you get enriched sentiment analysis benefits at a much higher level for a 360 view of your project.
Also Read: Advanced Sentiment Analysis Software